In 2022, the Polish ceramic group started up two new state-of-the-art production lines, increasing its annual production capacity by 8 million sqm.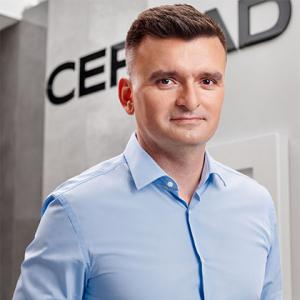 Cerrad is one of the most dynamic and fastest-growing ceramic tile producers in Europe with a well-established presence in both the Polish domestic market and the largest international markets.
The group's growth in competitiveness is down to a range of factors, including a comprehensive product portfolio (from clinker to porcelain stoneware for use on floors, façades and terraces as well as special stair tread pieces) and a wide range of finishes (matt, polished, lapped and satin) and sizes (including 162x324 cm and 120x280 cm slabs).
Full-body coloured porcelain tiles for the discerning investment sales sector are amongst its premium products manufactured using cutting-edge technology. The latest investments made in 2022 have made a vital contribution to the company's growth.
"At the beginning of February we launched a pilot production line with a capacity of approximately 5 million sqm of tiles per year, which allowed us to develop and bring to market unique products with very deep structures," explains Cerrad Group's CCO Filip Cegłowski. "This technology also allows us to recycle and reuse soft scraps, reducing our demand for raw materials, water and energy and in turn lowering our impact on the natural environment. In June this year we started up a second production line, which was modified to increase our production capacity by approximately 3 million sqm of tiles per year. This added 8 million sqm of tiles is the largest increase in production capacity our Group has ever made in a year," notes Cegłowski.
With these latest investments, the Cerrad Group's total production capacity (including that of the subsidiaries Ceramika Nowa Gala and Ceramika Gres) has reached approximately 28 million sqm/year of tiles, which it exports to more than 50 countries worldwide. These volumes are set to increase further in 2023.
"We're planning to begin construction work later this year on an additional 5 million sqm/year line, which is expected to commence operation in the fourth quarter of 2023," adds Cegłowski.
Cerrad's increase in production is driven by the group's strong sales performance in the strategic Western European and US markets.
"In 2021 we reported revenues of almost PLN 645 million (approx. €140 million, Ed.), up around 35% on 2020, and a net profit of PLN 77 million (approx. €16.7 million, Ed.)," Cegłowski adds.
Cerrad group currently employs more than 1300 people. Following a well thought-out long-term development strategy, the group has succeeded in entering new market segments both in Poland and abroad.
It participates regularly in the leading international trade fairs, including Coverings, Cevisama, Bau and, of course, Cersaie, where it will be exhibiting its new products once again next September.
Cerrad x La Mania Home
Developed in partnership with Joanna Przetakiewicz, creative director and founder of the La Mania fashion house, the Cerrad x La Mania Home brand has already launched four porcelain tile collections onto the market: Brazilian Quartzite, Ceppo Nuovo, Modern Concrete and Marmo Thassos/Morocco, all available in various sizes, colours and surface finishes. These include 6 mm thick 120x280 cm slabs with original designs and a lapped silky crystal finish. The Ceppo Nuovo collection, inspired by a type of Italian bedrock from Milan, won the international Red Dot Award 2022 in the Product Design category.