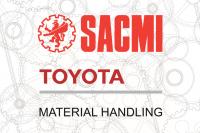 Samboro, the largest ceramic tile manufacturer in Guatemala, has chosen the revolutionary warehouse logistics management model developed by Sacmi-Toyota Material Handling Italia with the aim of extending just-in-time production to the ceramic industry.
Samboro's factory, along with headquarters and showrooms, is located in the city of Villa Nueva south of Guatemala City and has a production capacity of 35,000 sq.m/day.
The system developed to optimise the logistics of the finished product yard reduces the number of handling tasks, increases the level of service and cuts management costs.
By revolutionising the traditional approach to order picking and preparation, the solution is based on a "goods to personnel" concept in which forklift drivers move around the storage area and bring the goods to the picking personnel who remain in the shipment area. This generates efficiency at all levels by saving time, cost and space, minimising errors at the picking stage and enhancing safety and traceability throughout the process.
Read the complete article published on Ceramic World Review 117/2016