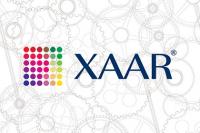 Fine details and strong colours are amongst the key characteristics of the Xaar printheads.
On show at Tecnargilla 2018, the Xaar 2001+ printheads proved a big success thanks to their versatility, strong colours and high definition of details with a print resolution of 720 dpi.
The quality that can be achieved with Xaar 2001+ printheads is confirmed by the tile manufacturers who are already using them in various parts of the world. They are proving particularly popular in Asia.
In India, for example, Scientifica Tiles has adopted Xaar 2001+ together with High Laydown (HL) technology to create special effects such as gloss, lustres and metals.
Inol Group, based in Foshan, China, recently upgraded ten of its printers to the Xaar 2001+ GS12, which delivers a maximum ink laydown of 40 g/m2 at 25 m/min. line speed. The company, which has been using Xaar technology since 2013 and works closely with Italian design companies, observed a clear improvement in print quality and an increase in productivity, as well as lower production costs due to less downtime for maintenance than with other printheads.