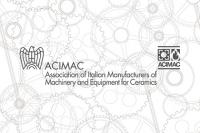 2017 was another growth year for the Italian ceramic machinery and equipment manufacturers.
According to figures published by the Research Department of Acimac, the sector's trade association affiliated to Confindustria, 148 companies with a workforce of 7,277 employees (+10%) generated a turnover of 2.237 billion euros, a further 10.3% increase on the previous year's figure.
"This is the fifth year of steady growth, demonstrating our companies' ability to respond to the dynamic, ever-changing situation in world markets with timely solutions and continuous innovations," said Acimac's Chairman Paolo Sassi.
Exports, which accounted for 74% of total sales, were crucial to achieving these results and consolidating the sector's world leadership position. In 2017 exports totalled 1.656 billion euros (+7.1%).
The Italian market
However, the best performance was in the Italian market with 20.6% growth to a total of 580.6 million euros.
"The incentives of the government's Industry 4.0 Plan drove investments on the part of our Italian clientele, who maintained their international leadership in terms of cutting-edge technology," continued Sassi.
"But at the same time we believe we have entirely fulfilled the production needs of the Sassuolo cluster and therefore expect to see the market return to normal over the next few years."
Exports
Export sales confirm the leadership position of Italian ceramic machinery manufacturers and their role as the most important industrial system in the world. It has an extensive presence in international markets with export shares divided equally amongst the main regions.
The largest area of export was the European Union with a turnover of 431.5 million euros (26% of total turnover), 26.2% up on 2016.
In second place was Southeast Asia with 14.7% growth to 273.3 million euros, 16.5% of total turnover. Next was the Middle East, which remained stable at 230.9 million euros (13.9% of total exports).
Africa climbed a few positions in the rankings to fourth place with 169.1 million euros (+13.8%).
South America was close behind with 6.2% growth to 168.6 million euros.
By contrast, the North American market saw a 19% fall to 141.1 million euros. Eastern Europe also experienced a 15% contraction in investments to 134.7 million euros.
Sales to China enjoyed double-digit growth (+20.4%) to 103.8 million euros.
Closing out the rankings was Oceania with 3.6 million euros, 3.3% up on 2016.
Internationalisation of production
Along with exports, a total turnover of almost 500 million euros was generated by the 76 companies operating outside Italy but controlled by Italian groups.
Client sectors
The breakdown of turnover by client sectors remained almost identical to that of previous years.
Tile machinery was once again the largest sector accounting for 86% of total turnover, up 13.2% to 1,927.1 million euros.
The second most important client sector was brick and tile machinery, which however continued to experience significant difficulties with a further 18.1% contraction in turnover to 125.1 million euros.
Next came sanitaryware machinery with turnover stable at 115.4 million euros. Refractory machinery remained in fourth position with a turnover of 40.1 million euros (+15.7%). Tableware machinery saw an upturn (+19.1%) to 21.9 million euros, as did technical ceramics (7.4 million euros, +46.9%).
2018 forecasts
The outlook for the current year is cautious. "Considering the inevitable stabilisation of investments in Italy and the first signs of a slowdown in some world markets, we expect to see our turnover remain unchanged in 2018," concluded Sassi.