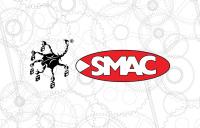 Led by Sergio and Fulvio Masini, Officine Smac has established itself in international markets as a major supplier of glazing and decoration equipment for the ceramic tile and brick industries.
Officine Smac, a company specialising in the supply of plant and equipment for the ceramic and brick industries, is preparing to celebrate its 50th anniversary. Combining an illustrious past with a future-oriented vision, the Fiorano Modenese-based company stands out for its desire to take on ever new challenges and remain constantly at the forefront of the industry. Throughout its long history, it has expanded and excelled in all international markets, establishing itself as a key player in the field of ceramic glazing technologies and introducing important developments and cutting-edge solutions for the entire sector.
Ever since it was founded in 1969, Smac has been committed to R&D activities aimed at creating exclusive ceramic surface effects. From the first brush application machines developed in the 1970s (a technology evoked in the historic logo) to the first roller decorating machines for tiles and the innovative coolers, Smac has continued to renew its range and expand and is now preparing for the next step of digital glazing. With a highly qualified team and constant investments in advanced technology, Smac is an efficient and dynamic partner capable of supporting ceramic companies with customised solutions developed with meticulous care and craftsmanship.
Just like fifty years ago, the company continues to be led by chairman Sergio Masini, one of the founding partners who together with his son Fulvio continues to pursue the company's growth with ethics and vision. "This anniversary marks an important business success and is a cause for great satisfaction," said Sergio Masini. "We have come a long way in fifty years, but there is still a lot to be done. We will continue to work with our renowned passion, integrity and customer focus while looking to the future with fresh enthusiasm and energy. I warmly thank everyone who has helped us achieve this goal, including all the employees who have worked for us over the years, our suppliers and of course our customers who have always supported us and rewarded our efforts."