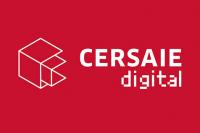 Exhibitors look forward to returning to the in-person event in complete safety: 80% of the available space has already been booked 7 months before the event is due to take place.
Cersaie, the world's most important exhibition of ceramic tile and bathroom furnishings, will be back in the Bologna Exhibition Centre from 27 September to 1 October 2021. This year's show will see the return of the physical exhibition, which will observe the strictest safety measures at a time when the vaccination programme should be well underway and restrictions eased.
The confidence of exhibitors and their desire to look to the future is clearly demonstrated by the fact that 80% of the total space allocated at Cersaie 2019 has already been booked seven months before the show is due to open. This percentage, together with the fact that exhibitor applications are arriving from all over the world, promises well for extensive international participation. It also confirms the appeal of Cersaie and its excellent relationship with exhibitors, boosted by the hard work that has continued uninterruptedly through these difficult months.
One completely new feature of this 38th edition is Cersaie Digital, which will be online for three weeks from 20 September to 8 October. The exhibitors at the physical exhibition will also be participating in the online event, which is intended to complement rather than substitute the in-person show. In particular, the digital event will fully exploit the potential of information technology, the dematerialisation of information and events and the global reach of the internet to consolidate the role, standing and prestige of Cersaie.