From 15 to 17 February, the Indian ceramic industry will meet again in Gandhinagar (Gujarat) for the 17th Indian Ceramics Asia.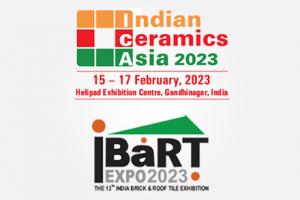 From 15 to 17 February, the Indian ceramic industry will meet again in Gandhinagar for the 17th annual edition of Indian Ceramics Asia and its concurrent show IBaRT, the India Brick and Roof Tile Expo. Around 250 companies from India, Europe, China and other countries will exhibit on a total area of over 12,000 sq.m.
These include the Italian machinery, equipment and material manufacturers Air Power, Appel, BMR, Bocedi, Cami, Cimes, Expert Lab, Interser, LB, Marpak, Mectiles, Metco, Minerali Industriali Engineering, Projecta Engineering, Sacmi, Setec, Smac, Surfaces Group, System Ceramics, Tecnocer Italia and Tecnoferrari, most of which will be exhibiting in the Italian pavilion organised by ACIMAC in cooperation with the Italian Trade Agency.
Lamberti will also be present with its Indian company, while AKW, Imerys and Alteo will be among the exhibitors in the field of ceramic raw materials, and the IBaRT show can count on the presence of several well-known European suppliers, including Beralmar, De Boer, Equipceramic.
Ceramic World Review will also be present at the show with its Special India issue, in Hindi language, to be distributed at the ACIMAC's booth.
Indian Ceramics Asia provides a welcome opportunity to meet up with customers, most of whom are making substantial new investments aimed at increasing production capacity and productivity, but most of all aimed at reducing energy and production costs while increasing efficiency.
The Indian ceramic industry holds potential to become the largest producer in the world, as the industry is looking to almost double its turnover by 2024.
In the last couple of years, the Indian ceramic tile industry has further strengthened its position as a global tile player and as the world's second largest manufacturer, consumer and exporter behind China. In 2021, India's tile producers chalked up another astonishing success with total exports of 483 million sqm (up 19% on 2020), an achievement that has helped the industry recover more rapidly from the impact of the Covid-19 pandemic.
To talk of "double-digit" growth is a significant understatement. When in 2014 India's exports passed the 100 million square metre mark for the first time, it was the result of an 85% upturn, followed by increases of 31% in 2015, 39% in 2016, 23% in 2017, 20% in 2018, 31% in 2019 and 21% in 2020. Exports also continued to grow in 2022. According to industry leaders, in the Fiscal Year 2023 (ending on 31 march 2023) the value of Indian ceramic tile exports is expected to grow by between 35 and 45% on FY 2022, reaching approximately Euro 2.2 billion (approx. Rs.170 billion).