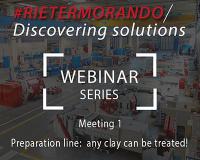 Rieter Morando, a world leader in the clay preparation and shaping sector, is organising a series of webinars entitled Discovering Solutions intended to help brick manufacturers adopt the necessary technological upgrades to enable them to compete in the various markets.
While the pandemic has drastically restricted international travel and prevented companies from maintaining close physical links with their customers, it has not stopped Rieter Morando from innovating with a view to increasing flexibility and production quality.
The aim of the webinar series is to present the solutions developed by Rieter Morando in the field of clay preparation and shaping based on its experience in over 100 years of operations and thousands of installations carried out the world over.
The first of the three webinars, entitled "Preparation line: any clay can be treated", was held on 26 May and was attended by a large group of industry professionals.
Rieter Morando's General Sales Manager Gian Stefano Marchisio, a professional with more than 30 years' experience in the sector, gave a detailed account of the company's technological offerings and made useful suggestions about how to choose the most suitable raw material pre-processing line according to the end product and above all the type of clay used.
Rieter Morando is highly attentive to the characteristics of the raw materials and designs plants according to the chemical and physical properties of a local clay sample based on laboratory analysis and extensive testing. The result is a fully customised plant engineering project with the guarantee of a successful installation, backed up by a 24-hour service.
The dates of the subsequent webinars in the programme will be announced soon, with a focus on the moulding and facing brick line and on presses for the production of roof tiles and related accessories.
To watch a recording of the 26 May webinar, click on the QR code and complete the registration form.