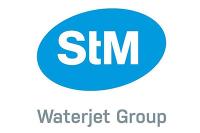 The new waterjet cutting system is capable of processing large ceramic tiles more quickly, precisely and flexibly to create an infinite range of furnishing solutions
Founded 20 years ago in Maria Alm (Salzburg, Austria), Geisler Fliesen & Ofenbau specialises in the processing of ceramic, marble and granite surfaces for bathrooms and interior and exterior finishes in the private household sector and the hotel industry. In July 2020, the company adopted the innovative PremiumCut water-jet cutting system from STM, a leader in water-jet technology and also based in the Salzburg area.
The aim was to expand the processing capability, especially for 12 mm thick ceramic tiles of sizes up to 160x320 cm, which are now Geisler's main focus in the design of furnishing surfaces.
The investment offered new growth opportunities and a number of benefits. "With its 68° cutting head, the new machine can work much faster and more flexibly with large size panels, allowing us to offer a new and unique range of products including kitchen and bathroom countertops, washbasins, tables and oven cladding," confirms CEO Markus Geisler. "Everything can be cut cleanly and without material distortion, regardless of the material, and any text or logo can be engraved perfectly and very quickly, as we are often asked by customers in the hospitality industry."
One of the biggest advantages is the fact that components no longer have to be processed at the construction site thanks to rapid and precise pre-fabrication. Communication between the construction site team and the workshop operator is smooth, rapid and digital, which shortens construction time, a not inconsiderable cost factor.
Additionally, PremiumCut waterjet cutting is a cold-cutting process which does not generate heat or cause structural changes. This also means that there is no hardening of the cut edges and bevels are clean and precise.
Another important factor for Geisler was the multi-day initial training and the support provided by STM, including remote diagnosis and maintenance and rapid supply of spare parts.
STM will be present at Marmomac (Verona, 29/09-02/10/2021) in Hall 3, Stand A3-A9.