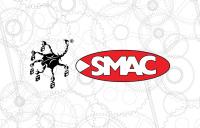 Smac (Fiorano Modenese, Italy) received two new important orders in India in the last months.
In December 2017 Smac installed a new grinding plant for the production of ceramic frits at the Orient Glazes Pvt Ltd. factory based in Gujarat (India). The new plant will allow the production of about 300 Kg/hour of selected material with grain sizes from 60 to 120 mesh; the plant is complete with rotary sieve and double closed cycle recirculation.
Emcer Tiles Pvt Ltd., also based in Gujarat (India), commissioned Smac with the supply of a new complete glazing line, which will be installed in the coming months. The new installation includes a glazing line with a 1400 mm frame, complete with all standard accessories, and will guarantee the production of ceramic tiles with sizes 120x240 cm, 120x120 cm, 80x160 cm, 80x240 cm. The glazing line is completed by "Versatile" airless glazing stations, "Kryo" tiles cooler, "DSR" dry application machine and engobe applicator with engraved cylinder called "Reverso".