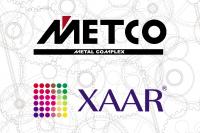 Xaar, the Cambridge, UK-based leader in industrial inkjet technology, has announced a new partnership since the beginning of the year with Italian ink manufacturer Metco to deliver Xaar-approved Solvent Soluble Inks (SSI) for use in GS12C and GS40C variants of the Xaar 1003 printhead and the Xaar 2001 GS12C.
Metco was the first company in the world to develop a set of completely soluble inks without using gold for magenta. These inks are used in the production of highly polished Lappato tiles found in commercial high traffic locations such as shopping malls and public buildings.
Xaar-approved inks offer tile manufacturers a range of benefits such as improved print performance, print reliability and improved throughput.
All Xaar-approved inks go through the XaarDOT® fluid optimisation process which includes determining complex rheological characteristics of a fluid to identify and fix reasons for poor performance; materials compatibility and lifetime testing to evaluate the effect of the fluid on the printhead and to establish fluid robustness; waveform optimisation to ensure greater drop placement accuracy as well as optimised operating voltage; and verification of the consistency and reliability of the fluid over a period of one year of heavy usage.
In addition, Xaar-approved inks are warranted against long term damage to the printhead. The warranty differentiates XaarDOT® optimised fluids from other non-warranted fluids.