System Ceramics is entering the thermal machine sector with the launch of its first high-performance horizontal multichannel dryer.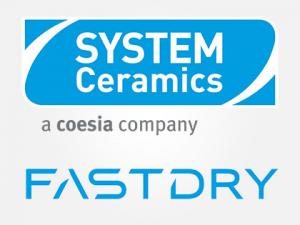 After achieving a high level of technological excellence in the pressing, decoration and quality control sectors, System Ceramics (Coesia Group) is now expanding its range of activities to the field of thermal machines with the immediate aim of delivering an advanced, high-performance solution. Fastdry is the first horizontal multichannel dryer developed by the Fiorano Modenese-based company as part of an integrated vision aimed at optimising the complete ceramic production process.
Technical characteristics
The Fastdry dryer is designed with independent chambers equipped with air intake and blowing boxes, a solution that guarantees optimal airflow control and consequently uniform drying over the entire surface of the tile or slab. The box system for air distribution not only separates the various levels but also serves to transfer the ingoing and outgoing air volumes. Each box has a number of independent channels into which the air can be introduced, thereby controlling its flow and guaranteeing uniform drying.
As part of the horizontal dryer category, Fastdry offers numerous advantages. Along with the ability to regulate airflows and ensure a high level of control and stability and consequently optimal drying quality and consumption, Fastdry also has the necessary versatility to meet market demand for flexibility. The separation into layers enables it to handle products with different drying times. A further contribution in terms of flexibility comes from the software developed by the System Ceramics engineering team, which allows for the management and traceability of multiple products inside the machine.
Fastdry's quality can be further improved by installing a high-speed rapid outfeed module capable of handling tiles or slabs with thicknesses from 3 to 30 mm while ensuring uniform temperature values over the products' entire length. The uniformity of the drying cycle also brings a number of benefits when the ink is applied to the substrate: no structural differences between the tiles, a reduction in decoration issues and differences in tone, as well as an increase in productivity when applying effects.
Maintenance
Fastdry has limited maintenance requirements. Inspection and routine cleaning can be performed rapidly and efficiently thanks to the lateral access to each level. This results in ease of use as well as reduced maintenance costs, confirming the effectiveness of a design approach that focuses on optimising management.
An interconnected and digitalised process
Like all System Ceramics' latest-generation technologies, Fastdry is also interconnected and digitalised. The new dryer's entire process can be integrated with Prime, the software services platform designed and built in-house to organise the information flows of entire production facilities. This highly integrated and connected system has a simple and user-friendly human-machine interface (HMI) for total control of Fastdry's activities, while embracing the principles of sustainability and the circular economy.
Fastdry therefore integrates perfectly with the evolution of Superfast in terms of both design and process, creating an integrated system capable of increasing the speed and flexibility of all steps in ceramic tile production. This customer-oriented design process focuses on the ability to provide personalised solutions to any requirement and to produce high-quality ceramic products.