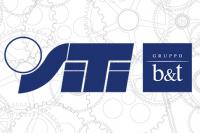 Extreme size flexibility, small and large thicknesses, zero defects and waste, and optimised productivity.
SUPERA® is evolving. The unique strengths of Siti B&T's integrated belt pressing line for large slabs have been further improved with the development of the new SUPERA® HP version. Key features include greater size flexibility; small or large thicknesses; zero defects and waste thanks to patented innovations and use of the tensionless device; and optimised productivity due to the use of the same bodies as traditional glazed porcelain.
SUPERA® HP is a complete line that covers all stages in the production process from preparation to the end of the line. It is a revolutionary system that produces traditional sizes without the need for a mould, while maintaining high production volumes and maximum flexibility. Four models have been developed for the production of porcelain tiles in sizes ranging from 1200x2400 mm to 1600x3200 mm. The new technology also offers unique aesthetic potential in thicknesses ranging from 3 to 30 mm and allows for extremely rapid thickness and size changes.
But the truly revolutionary aspect of this technology is the fully automated cutting process performed on the line prior to drying, which allows for greater flexibility and the ability to satisfy any request. Pre-drying cutting is performed longitudinally and continuously using Diatex discs and allows a wide variety of sizes to be produced from a single large tile or slab, while the automated netting change system guarantees high productivity. Along with size flexibility, this upgrade also reduces inventory, eliminates the use of moulds and produces smaller quantities of waste.
The Smart Factory of interconnected systems
SUPERA® HP also adopts a smart factory approach aimed at combining production efficiency with energy saving through the use of fully interconnected systems. It is equipped with the bt-TUTOR plant supervisor, the Siti B&T solution that allows for monitoring, data collection and plant control and interacts with production planning and preventive and predictive maintenance. It is also cloud compatible and equipped with mobile device support and a user-friendly operator interface.
Thanks to Siti B&T's continuous R&D investments, SUPERA® HP features a number of outstanding patented technologies:
STS® Structure & Thickness for Slabs: this solution allows for maximum control of surface uniformity while reducing the risk of stresses inside the ceramic slab and ensuring thickness uniformity over the entire surface and evenly distributed pressing; the original pressing system with synchronised cylinders also ensures perfect flatness and high product quality.
Energy on demand Start&Stop®: the hydraulic power unit eliminates machine downtime, ensures maximum efficiency and low energy consumption per square metre and minimises the use of oil cooling systems.
Mobile plates: a patented shaping system for containing raw materials and minimising waste; the high flexibility in terms of ceramic bodies allows for the use of locally-sourced raw materials.
Full thickness decoration
The new SUPERA® HP has also expanded the potential for full body decoration and 3D surface textures. Ongoing research efforts have led to patented solutions for full-thickness decorations designed to create original surfaces with a distinctive identity. The material has effectively been reinvented through the use of three-dimensional and through-body effects. And following years of research into the finished product, the new technology is capable of further improving its beauty and aesthetic quality.
SUPERA® HP is capable of creating high-reliefs with unparalleled definition to a maximum depth of 4 mm on large thickness slabs. Fresh decorative potential is combined with full-body effects and high-definition printing.
The know-how of a technology partner
Thanks to its specialist knowledge and expertise, Siti B&T is the ideal technology partner for all steps in the production process from the preliminary stages onwards. The services it offers include in-depth study of raw materials, body formulation, optimisation of the glaze mixture and industrial testing with the production of finished product samples. Siti B&T Group has all the skills and knowledge necessary for complete integration of the various phases of the ceramic production process.
It offers complete and integrated solutions covering the entire value chain as well as proprietary technology for guaranteed competitive advantages. The group is made up of specialist companies capable of offering cutting-edge solutions for every stage of the production process: SITI (complete lines for tiles), Projecta Engineering (full digital decoration), Digital Design (creativity and design), Ancora (complete finishing plants) and Diatex (diamond tools). The group also stands out for its unflagging commitment to R&D, investing approximately 3.5% of its annual revenues to deliver customised products and maintain high standards of innovation.