Financial statement analysis for ceramic tile manufacturers: comparison between Italy and main world competitors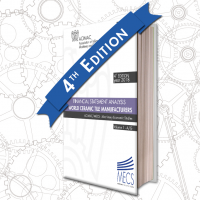 The Acimac Research Department has published the 4th edition of the "Financial statement analysis of world ceramic tile producers" examining the 2014-2016 economic and financial data for a significant sample of 388 companies: 82 operating in Italy, 77 in Spain, 40 in other EU countries, 84 in Asia and 55 in other countries worldwide.
The study compares each company's performance with the average national and world profitability values and with those of the most similar companies in terms of management and results (cluster analysis). Three different financial stability and default risk ratings are also provided for each company. The publication includes world rankings of companies according to 15 different financial statement items and their classifications according to an innovative multi-dimensional index.
Italian companies posted strong results in 2016
The 2016 financial statement analysis of the leading Italian ceramic tile manufacturers reveals a further improvement in profitability indexes and consequently confirms the good state of economic and financial health of the companies.
Return on investment ROI has grown by a further percentage point (from 4.2% to 5.3%). Added value margin has remained stable at 32.3%, the same level as Spain and the rest of Europe, but higher than the Asian average. Added value per employee has remained very high in Italy at almost 100,000 euros compared to 75,000 euros in Spain, 36,000 euros in the rest of Europe and 23,000 euros in Asia. Italian companies also have a very high level of investments per employee (415,000 euros).
In 2016 the Italian ceramic tile manufacturers saw a significant improvement in both EBITDA and EBIT, more or less in line with the situation observed in Spain, whereas these indexes were higher in the rest of Europe and in Asia.
However, average net profit achieved by Italian companies was slightly lower than that of their Spanish counterparts (5.5% compared to 6.8% in Spain), although in line with the rest of Europe and with Asian manufacturers. This is partly due to the higher impact of taxation (net of the tax incentives adopted through the national Industry 4.0 programme) and partly to the higher passive interest costs faced by Italian companies.
Download the presentation of the study here
Read the analysis carried out by the Acimac Research Department published on Ceramic World Review 126/2018