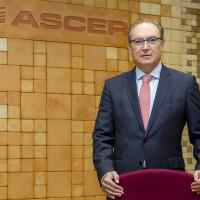 The Spanish ceramic tile industry has completed another year of growth in all its main indicators, once again confirming the sector's strong bill of health.
Estimated total production generated by the 142 Spanish ceramic companies reached 530 million sqm, 7.7% up on the 492 million sqm of 2016.
Sales rose by 6% to over 3.5 billion euros, 200 million euros more than in 2016 when the industry reported a similar level of growth (up 7% on 2015). The average selling price also increased by 1.3%.
This growth was divided equally between exports, which grew to 2.686 billion euros (+4.5%, a record for the sector), equivalent to 76.5% of total sales, and domestic sales (+10.5%). The Spanish market maintained the slow but steady recovery that began in 2014, driven mainly by the renovation segment. As Vicente Nomdedeu, chairman of the Spanish tile producers' association Ascer, pointed out, the 824 million euros generated by the domestic market are well short of 2007 values, although the forecasts for 2018 suggest that the positive trend will continue, albeit at a slower pace than in the last 3 years.
Spanish companies are also making significant investments in new technologies with the dual aim of producing innovative materials and improving efficiency in process and production cost management.
The strong performance of the sector has also pushed up employment, with the hiring of 700 new direct employees. This brings the sector's total workforce to 15,600 (26,000 if indirect employees are included).
Exports areas
Europe continued to be the largest market for Spanish tiles with a 47% share of total exports and sales of 1.27 billion euros (up 7.8% on 2016). This result was driven by increases both in EU markets (1.070 billion euros, +8%) and in Eastern Europe (163 million euros, +8%), which began to see a recovery after years of contraction thanks to the strong improvement in sales in Russia (+8.6%).
France, the largest export market, saw further 8% growth in sales, while Italy experienced further double-digit growth (+13%) to become the Spanish tile industry's fifth largest export market. By contrast, sales growth slowed sharply in both the UK (the third largest export market, +1.8%) and in Germany (+2%).  
The surge in exports to the American continent continued in 2017 (464.5 million euros, up 21% on 2016 following a similar level of growth the previous year). This included another excellent performance in the United States (234 million euros, +24.5%), which confirmed its status as the second largest export market for the Spanish tile industry. Spain exported around 22.7 million sqm of tiles to the USA (source: TCNA based on U.S. Dept. of Commerce figures), an increase of 33% over 2016 at an average selling price of around 13.5 $/sqm.
Spain also reported growth in tile exports to Central America (+4.7%) and South America (+33.5%).
On the other side of the world in Asia, the Spanish tile industry continued to see export growth in the Far East and Southeast Asia (a total of 109 million euros, up 29% on 2016). By contrast, exports to the Middle East saw a slight decline (-1%), with sales continuing to fall sharply in Saudi Arabia (-19.5%), one of the biggest historic markets for Spanish tiles, partially offset by growth in Israel (+4.6%) and Lebanon (+11.3%).
Last but not least, Spanish tile sales in Africa experienced an even bigger fall in 2017 (-22%) than in 2016 (-9%). This was largely due to the import embargo introduced in Algeria, which effectively closed off the market, resulting in a 29% fall in sales in the Maghreb region despite the positive 4.5% growth in Morocco.
Overall, sales in Spain's top 10 export markets totalled 1,344 million euros, 50% of the sector's total turnover.
Despite the uncertainties in several export markets, Ascer's outlook for 2018 remains positive with an estimated export growth of between 7% and 9%.
Read the complete article and the detailed tables published in Ceramic World Review 126/2018.