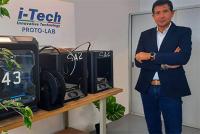 Revenues increased by 16.5%. The Sassuolo-based company has benefited from its investments in product innovation.
I-TECH™, a Sassuolo-based company specialising in solutions for improving the efficiency of production processes for semi-finished products for glazing and decoration, reported excellent results in 2020, including 16.5% growth in revenue and a 10% increase in shareholders' equity.
Renowned worldwide for its Colormix colour dosing system, its automatic glaze transport system (G.O.D.) and its digital printer ink refilling system (I-NKFILLER®), the company outperformed all expectations in a year dominated by the pandemic and the further contraction of the manufacturing machinery sector.
"Thanks to the financial solidity we have achieved during our many years of business, we were able to continue to invest both in product innovation and in promotion/marketing in 2020 and carry on the process of diversification we began in 2017," says CEO Bruno Bettelli. "I'm proud of the work done by our entire team."
In the last two years the company has focused on entering new sectors and developing new products and solutions. It filed 5 new patent applications, enabling it to gain accreditation as an Innovative SME in the business register in 2020.