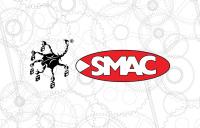 Smac is presenting iBRUSH, the new system for applying protective liquid to polished and honed tiles.
Thanks to a combined system of rotating brushes and brushes that move in a perpendicular direction with respect to the direction of tile movement, iBRUSH ensures uniform application and perfect penetration of material.
iBRUSH is equipped with 2 brush groups with independent rotational and translational speed and pressure adjustment. Each group consists of two rows with 4/5/6/8 tools each, depending on the maximum size of the tiles. The first group, equipped with special low-absorbency and anti-wear sponge tools, applies the protective liquid and spreads it uniformly over the tiles. The second group is equipped with harder tools to ensure that the liquid has penetrated perfectly into the pores in the tiles, then removes excess and begins the polishing process.
Its small size means that iBRUSH can be used on any existing line, while its self-supporting frame enables it to be installed in just a few minutes.
Protective liquid feeding is managed by a PLC-controlled pump which allows the applied quantity to be controlled in a precise and consistent manner. Each brush has its own feed unit.
The tools are equipped with a patented quick-coupling system that allows for rapid changes even with large sizes thanks to the innovative brush group extraction device. This allows any kind of maintenance work to be performed quickly and conveniently.
iBRUSH further extends Smac's already wide range of products in the field of end-of-line surface treatment, covering everything from laser-engraved roller and belt applicators through to multi-head satellite brushing machines for final polishing.